BUR-AND CHIPFREE – NO COMPROMISE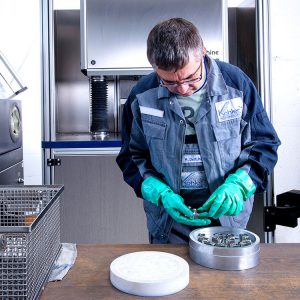 Deburring at Kohler
Occasional burrs in components can be found even in high-end manufacturing productions. At Kohler Präzisionstechnik we try to achieve bur- and chip free components. Therefore, we have optimized our deburring and finishing process.
Fine Deburring
We ensure burr discovery up to the smallest burr with help from optical equipment including microscopes and endoscopes to reliably remove any faults.
The fine deburring is made manually by our expert staff.
For the deburring of larger quantities, we are using our industrial robots.
Flow Grinding
Geometrically complex shaped inner contours get deburred with flow grinding equipment. In addition to the deburring of edges, we offer inner contour smoothing.
Brilliance
Dry fine blasting devices are used for target deburring on complex contours and to create optimal surface structures.
Different blasting materials such as sand, glass or corundum/aluminum oxide are used depending on the individual part.